*Ding Dong* the UPS guy is here!
It's not often that I'll post twice in one day but I received a swap package in the mail and couldn't possibly wait until tomorrow! In Craftster's Unconditional Swap April I asked for some coasters. I was picked by alwaysinmyroom and my goodness she is one generous craftster!! So on to the pictures....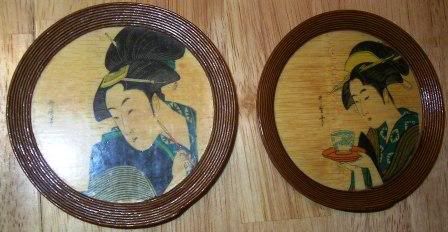 Coasters - She said these are vintage Japanese bamboo coasters. And though they have some sentimental value (they were given to her by her mother) she's not a coaster person and wanted me to have them. I had to take the picture at an angle to avoid major glare; they're actually the same size.
Japanese Picture - She made this using origami paper for the frame. I'm not sure yet where I'm going to put it. It should be somewhere that I can see and enjoy it's beauty but haven't yet decided on the perfect spot.
She wasn't sure if I had ever tried origami but she had seen my tutorial on Craftster about making tissue paper envelopes (available
here
) and figured out I
love
paper! I have tried origami (and love it!) but I'm not sure I'll be able to bring myself to fold these!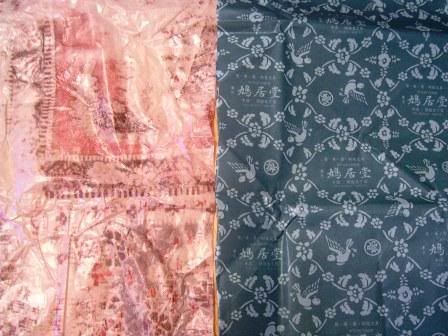 The coasters were wrapped in the tissue paper on the left; the Japanese picture was wrapped in the wrapping paper on the right. These are from Japan!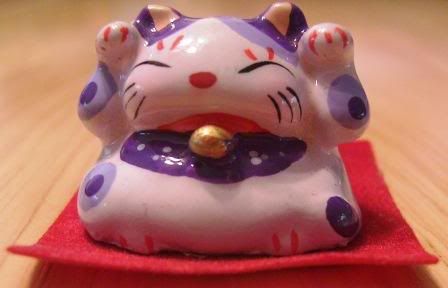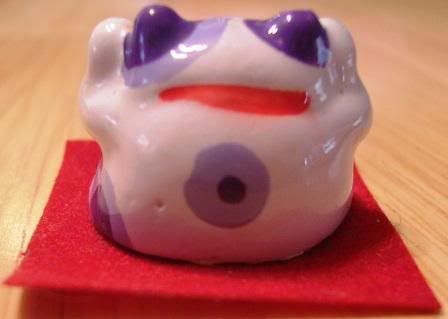 Lucky Cat - His little paws are raised to ask luck to come here. He's soo adorable!! I'm going to put him in the window sill of my bedroom. Hopefully he'll make friends with the little dog (currently living on my window sill) that my sister gave me for Christmas.
Kitty Stuffie - She said this absolutely adorable stuffie was her first!! I wish my first stuffie came out this good! And I love it's little purse!! If you can't see, inside it says "I wuv u".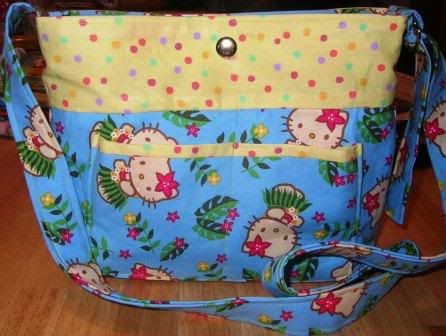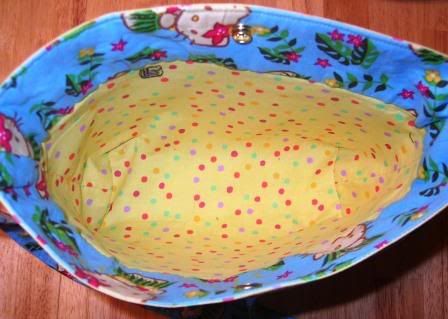 Hello Kitty Purse - I
love
purses!! And I
adore
Hello Kitty! I think I'm going to use this one for my church books and notebook; it's exactly the right size! The back is the same as the front except no pockets.
Buttons! - I collect buttons :o)
CD - Her husband is a musician and she knew I love music so she included his CD. The cover/insert art is amazing!! I'm not very good at classifying music as this genre or that genre; but if I had too I would describe this as Jazz. I popped it into the CD player and my 5yo brother started dancing; he loves this CD!!
She also included a hand bound book in which she wrote a lovely letter explaining why she included all the different items; and also told me a bit about herself. I love this idea and I think I'll be using it in the future for my swaps (it'll also give me an excuse to practice book binding!). In the purse there were two pennies. I think this is to ward off bad luck?? I'll have to ask her to be sure :o)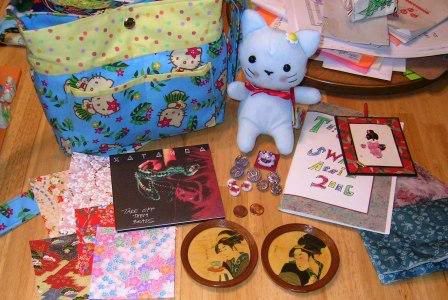 And here's a shot of all of them together!!
alwaysinmyroom: I don't know if you'll ever read this but I want you to know that I love and adore every bit of what you sent me! Thank you soo much!! I think I love you :o)