Craftster Swaps
Alrighty, so remember the Secret Friend of Craftster Swap I've been doing?? Well it's reveal time and we're all finding out who has been secretly crafting for us!! I was going to wait and do one post about the FOC swap (w/the stuff I sent and this latest package) but my partner hasn't revealed my identity yet so I'll just post the latest package I received.
My secret Craftster was Tristitia!! For the reveal package she sent me some gorgeous sock yarn (it's so soft! I can't stop petting it!), and a set of knitting needles (DPN US2)!!! The pretty paper under them is what they were wrapped in.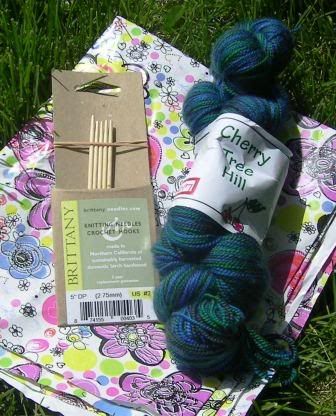 I still have yet to make my first pair of socks (part of my problem is I can't find a simple sock pattern that I like) as does Tristitia so we're both going to (hopefully) tackle that this summer.
This was the last package for this swap. Now all that's left is to send a Thank You!
On another note; I'm probably the worst partner Tenika has ever had (We're partnered in the Amazing Tshirt Swap, she sent me the adorable frog shirt)!
For some reason I got the send out date mixed up (it was the 10th, I thought it was the 15th). And I forgot to get a certain very crucial item at the store and still haven't sent (tomorrow I will!). So here it is a week after the send out date and she doesn't even have a DC# to look up let alone a shirt to fondle.
I think I just spaced it because of all the extra things going on. Mum had surgery yesterday, Daddy's been planning a huge banquet for the choir he and Mum are in, I've been fighting insomnia, and I kinda overloaded myself w/projects (most for swaps some for mother's day).
I think after I finish the swaps I'm already involved in I'm going to take a break from swapping....at least for the summer (except for the Ongoing Fabric Swap and maybe the Unconditional Swap).