Mother's Day
The tote bag and pillow case I was venting about this past Saturday have finally had their photo shoot so here they are:
First the Pillow Case - I ended up just starting over. The original fabric was a bright blue w/lots of tiny flowers. I let Mum pick this fabric (I had to tell her what it was for)
And here's the tote - It's reversible!! I used a tutorial on Craftster (found
here
) Mum helped me fix the pockets after I gave it to her.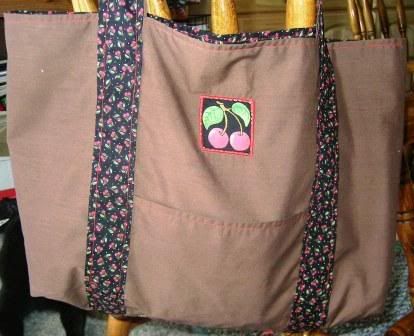 She loved them both and took them to the hospital with her. She was able to come home today and is doing wonderfully!! While at the hospital her blood sugar went through the roof so they kept a close watch on it (both her parents have diabetes) but it's been better so far. She was sent home with a equipment to check it twice a day and in about a month she'll go back for a check up.
Before she had to go I'd never realized how much I depend on her opinion and insight. All the time she wasn't here I'd think to myself "I've got to ask Mum about ______; oh, yeah she's not here, dang". I am so happy to have her back and she seemed quite pleased to hear how much she was missed :o)