Daddy's Banquet
So last week (Tuesday) was a HUGE banquet that my dad was in charge of. It was an end of the year thing for a choir he and Mum are in (Salt Lake Choral Artists); everybody that had ever had anything to do w/the choir all came and brought their families.
Originally I was going to help daddy plan/put up the decorations, and during the actual event watch my youngest siblings (5 and 9). However, daddy's even more indecisive than I am (and that's saying something!) so I ended up running the cantina!! I looked after the two chocolate fountains near by and made/served drinks. We served soda (boring) and virgin margaritas (strawberry and lime). I had never made a margarita before but now I'm
really
good (I should be after making them non stop for 3 hours).
Let me just interject here to say how much I love margaritas. When daddy asked me if I would help at the party I said "as long as I get an endless stream of margaritas". We have a TON of leftover mix so I've been having them almost everyday...heaven!! I'm sipping one as I type this :oD Oh yeah, I think I should clarify that I'm not quite old enough to legally drink and even if I was I wouldn't; so every time I mention margaritas know that I mean virgin ones.

It was an awesome party but I felt
really
sick the day after (too many margaritas and trips to the chocolate fountain). Daddy let me keep a few bits of the decorations (he wasn't supposed to but he knew that I've had my eye on these ever since the first moment I saw them):
Here we have the coolest feather boa in the world (I think it'll serve as trim for a purse), 6 spools of fabric ribbon, and some fake flower leis.
Ribbon all untangled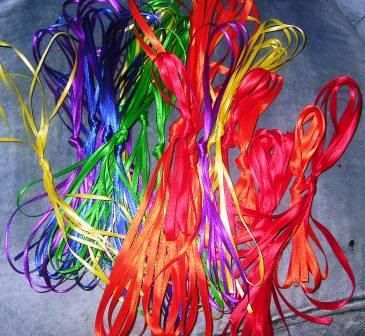 And a cool candy dish (it's really all pink but the edges always look like they're glowing orange)
Tonight I'm going to watch King Kong w/my dad; he gave me the DVD for my birthday but I still haven't seen it. I think we're also going to have a couple margaritas (his idea, he loves them almost as much as I do). I don't get to spend a lot of one on one time w/my dad; I'm excited!!