Oxalis is home!
So I was planning to post this yesterday but was distracted by something shiny and forgot until I was to tired to care :o) And today I feel more like knitting than blogging so I'm pretty much just going to copy and paste what I posted on craftster. Later I might come back and change a few things....maybe
Oxalis was a bit homesick when he first arrived so Haylie bought him a kitty! Oxalis named him Shamrock and Haylie's sister made Shamrock a pillow and blanket (which is brilliant because my room is
always
freezing!) ;o)
The day Oxalis arrived at Haylie's they left for vacation in Florida! One of the fun things they did was go to the beach and they found this shell. They brought it home and Haylie painted it (notice the tiny Oxalis under the palm tree)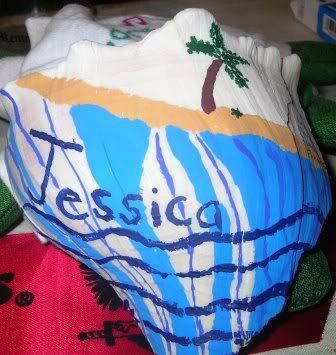 Another thing they did in Florida was go to Medieval Times for Haylie's birthday (Happy Late Birthday!!). They had dinner and watched Knights joust; they cheered on the red Knight but sadly he didn't win. Oxalis brought home a cup and a red flag.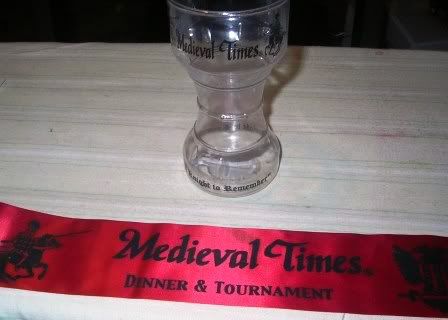 After returning home Haylie took Oxalis to dance competitions and recitals in which she, her sister, and cousin preformed! They're dance studio is called "Gotta Dance" so Haylie made Oxalis a Tshirt so he'd feel more like part of the group (he's still raving about what good dancers you all are!).
Oxalis also got to experience the Detroit Zoo! He brought home this awesome mug (it has footprints from an elephant, lion, raccoon, gorilla, bear, and frog)
And here's Oxalis's scrapbook! Haylie faux screen printed a picture of Oxalis on the cover (which is fabric). Haylie also had specific times when I was supposed to open all of the individually wrapped souvenirs. I'd be reading the scrapbook and there'd be a note saying "open present #4 now" :o)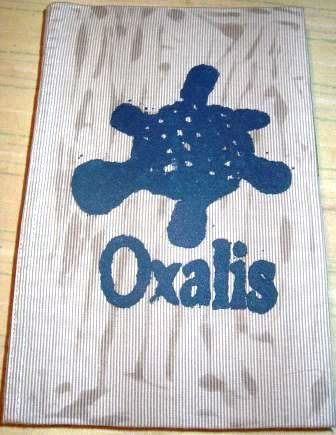 Here's a couple of my favorite pages from inside:
Here you see Oxalis's room and his new friend Froggy -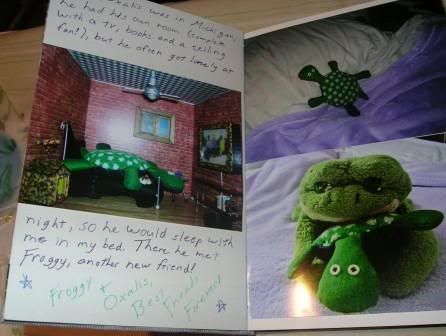 Oxalis at the movies (notice his glowing red eyes in the top pic; this made me laugh ;D) -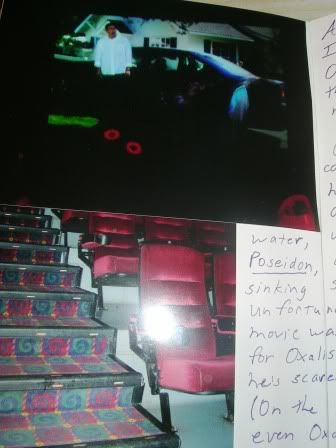 Oxalis sunbathing on the beach in Florida (this also made me laugh :D) -
Haylie took so many pictures they wouldn't all fit in the scrapbook so she also sent me a picture CD! The CD has all the pictures she used in the scrapbook and a bunch more; it also has a couple movies :oD (it's just occurred to me that I could've gotten that picture of Oxalis sunbathing off of the CD instead of taking a picture of the picture, duh! I'll be fixing that later)
Group Pic -