Tshirts
Remember the
purple froggy shirt
?? Tenika sent it to me for the Amazing Tshirt Swap; I ended up sending her shirt late but she's had it for awhile (according to my DC#) and hasn't posted anything. :o( I've even messaged her about it.....
I swear I took a million pictures before I sent it off, but my computer ate them and they're nowhere to be found. So I have a picture of the back, two detail close ups of the front, but none of the entire front; I sketched the layout so you'd at least get an idea though.
My idea was to have two flowers from which a dragonfly and a bee took off; the dragonfly and bee would then fly from the front of the shirt to the back, make a heart, and return to the front:
"Front" -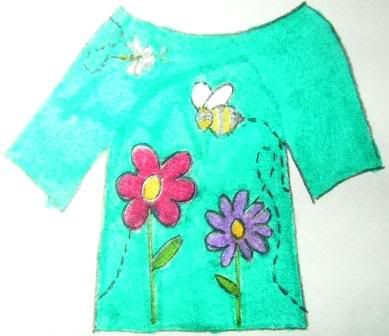 Back -
Close up of bee -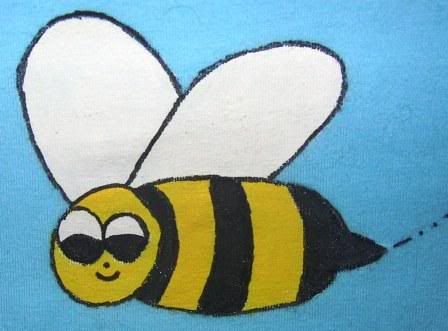 Close up of dragonfly -
It was all hand painted except for the "flying trails" which were drawn with a fabric marker. I hope she likes it....I do; I may just make one for myself sometime.
Here's a Tshirt that used to be white (sorry I forgot to take a before picture):
This was my first dye job and I think it came out rather well! In the picture it looks a bit too neon. I'm going to stencil something on it later this week (or maybe next week). I'm not saying what, you'll just have to check back later to find out :oD
This shirt will stay white but I'm going to draw something on the front of it. This one will be done this week because I want to wear it on Saturday for 'Worldwide Knit in Public Day'. No, the "stuff" going on the front has nothing to do with knitting.
And last shirt; I've had this for about a year (found it at a second hand shop) but I have no idea what it says! I love the fit (so comfy!), and I think it's cute, but I'm a bit self conscious wearing it out in public because I don't know what it says. I've reason to believe it's in Japanese (sorry about the lighting in the first one, the shirt really is white....and clean):
So if you have any idea of what the Japanese characters might say, please let me know :o)